Richie Bancells: Beyond The Tape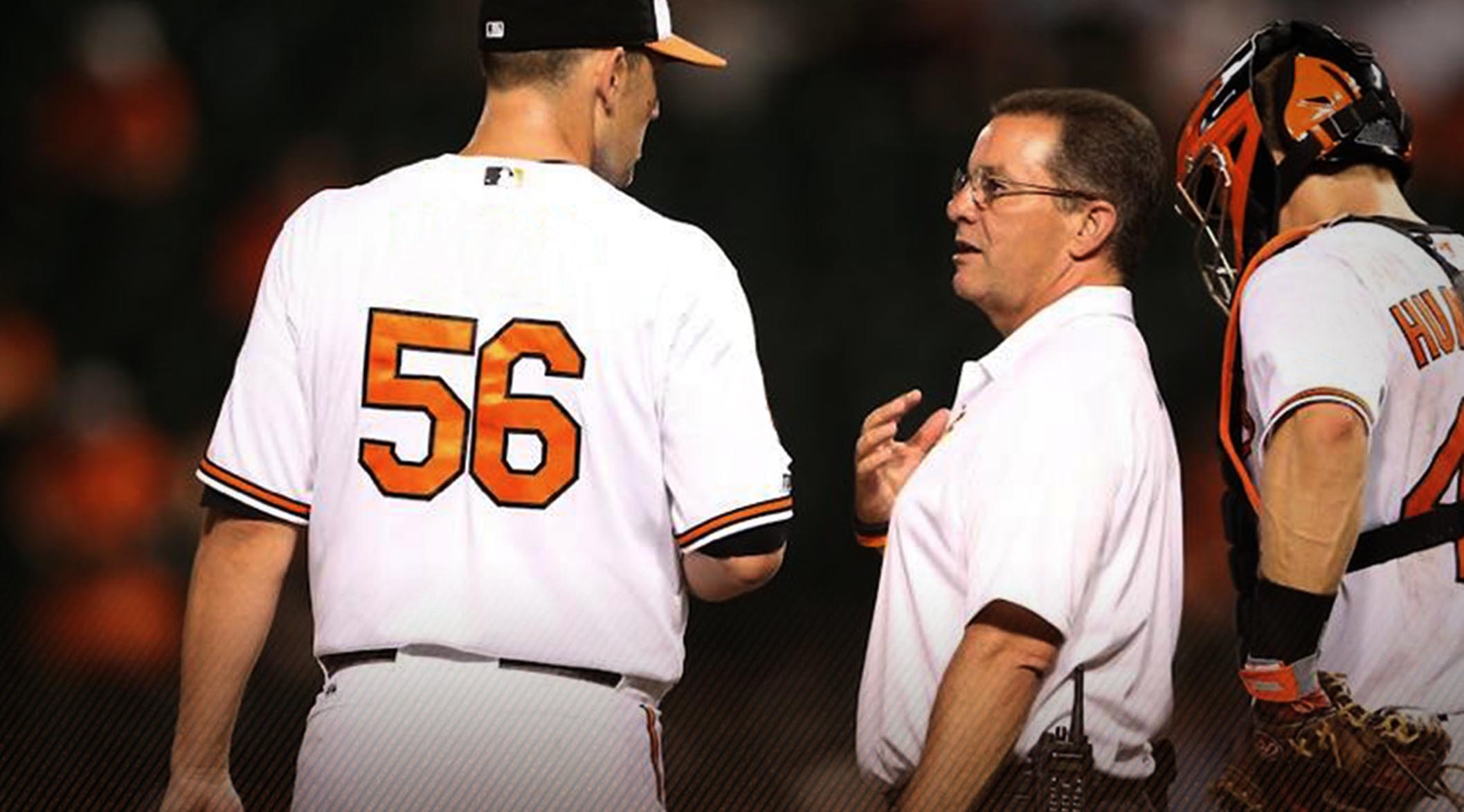 Behind every great superhero, there's a sidekick. Behind baseball's Iron Man, there was Richie Bancells.
As head athletic trainer for the Baltimore Orioles, Bancells was there for every step of Cal Ripken Jr.'s historic playing streak – for the injuries, the illnesses and anything else that came in Cal's way.
"I'd say it was more him than me," Bancells said. "If I had 25 Cal Ripkens on the team, I probably wouldn't have had a job."
Bancells, by nature, is a humble practitioner who wrestles with taking credit for his athletes' accomplishments. But his impact is clear.
Ripken, who became known as Iron Man for never missing a game in 16 straight seasons, only mentioned seven people by name in his Hall of Fame induction speech. One of them was Bancells.
"I'm not going to lie, it was a pretty emotional thing," Bancells said. "I can't remember the exact words, but he thanked me professionally and personally. He put it on two different levels, both as an athletic trainer and a friend. The recognition of the profession – that's what I was most proud of."
Though the streak came to define Cal's legacy, it only begins to describe Bancells'. The Key West native spent 40 years in the Orioles organization before retiring in 2017. During that time, he helped treat thousands of ailments. But one condition, Bancells said, still sticks out in his mind.
It was May of 1997. The Orioles were on a road trip when a player approached Bancells with an unusual pain.
Bancells took one look at him and knew that something was wrong.
"I just felt in my gut that this was different," Bancells said.
Bancells sent the player back to Baltimore to see a group of specialists. There, he was poked and prodded and run through a series of tests.
The diagnosis? Cancer.
As soon as the player received the news, he immediately began treatment. Shortly after, he started working with Bancells to get himself back into playing shape. By September of that season, the player was on the field again, helping the Orioles win the American League East.
"Every once in a while, when we cross paths and see each other, he gives me this hug," Bancells said. "And we just quietly know what that hug means without saying a word."
When Bancells decided to retire, the impact of his departure was felt by the whole organization.
"Seeing players come back and what Richie meant to them, the pureness of his heart and how much he loves the Orioles … It's a loss for us," manager Buck Showalter told the Baltimore Sun. "It's like losing a really good player."
Even in retirement, Bancells still finds ways to impact the game.
In April, he traveled to Puerto Rico to serve as the medical plan coordinator for the Indians-Twins international series. In that role, he made sure everything inside and outside the training room was Major League ready, and that the emergency procedure plan was in place if needed.
"It's funny, after I retired I had to re-explain it a little bit," Bancells said. "I retired as the head athletic trainer for the Baltimore Orioles, not from the athletic training profession. I don't think it's something I can just let go of because I love the profession so much."
40 years, thousands of treatments, hundreds of players, and Bancells is still going strong.
What does that make him? An Iron Man.