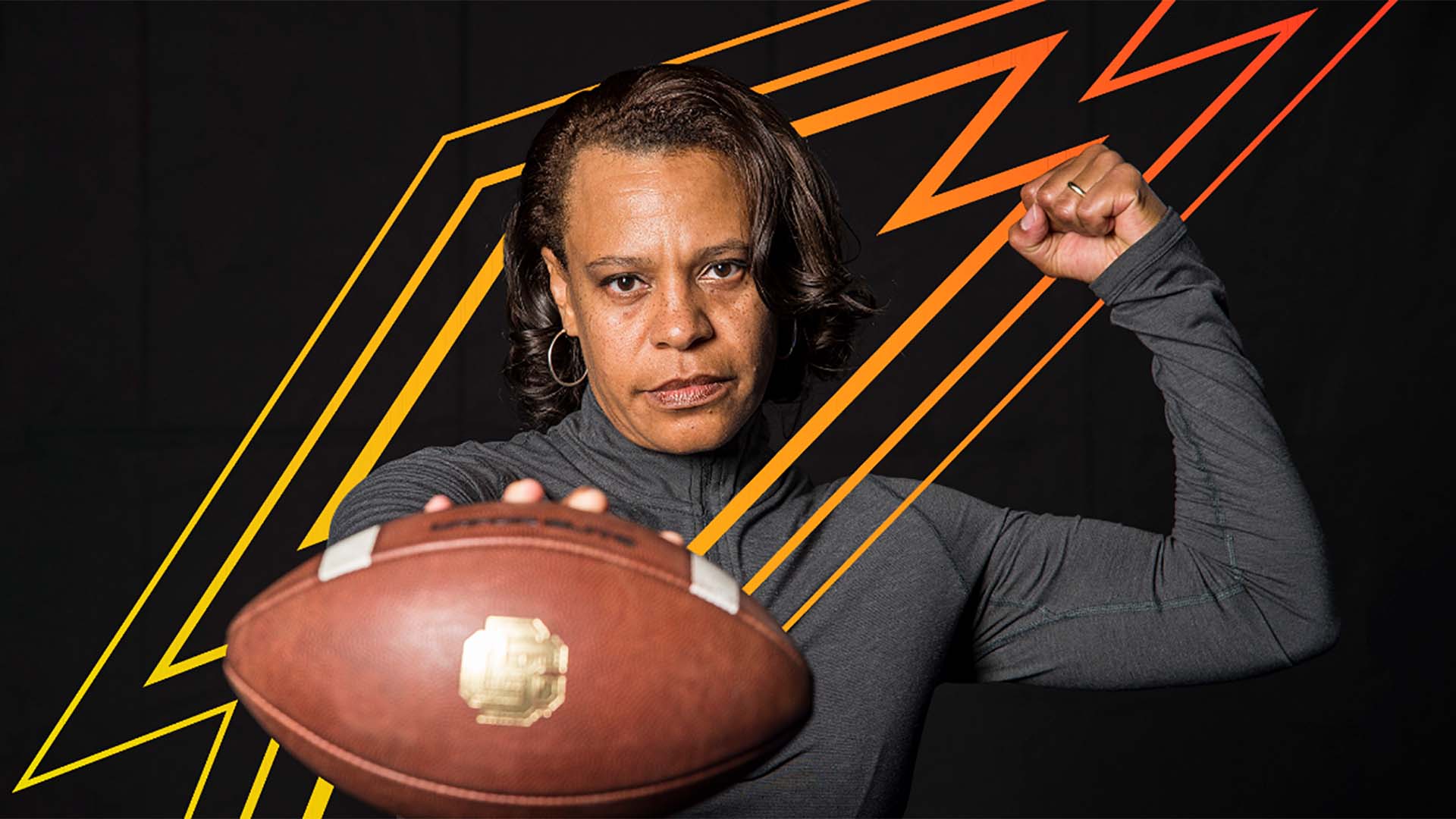 Meet nine women who use their roles within the sports world—their nine titles—to push the game forward each and every day.
To mark the 50th anniversary of the passing of Title IX—landmark antidiscrimination legislation passed on June 23, 1972—we set out to spotlight nine difference-makers who have solidified their impact on the sports world and ignited a fire of change for the future of women, and all underrepresented individuals, in the world of athletics and beyond.
These nine practitioners—each offering their own insights from differing backgrounds, experience levels, and areas of expertise—capture a snapshot of the impact Title IX has had up to this point, what it means to the modern game, and how it can propel even more change in the future.
Danielle LaFata |
MA, RD, CSSD, CLT
Director, Performance Nutrition, Phoenix Suns & Mercury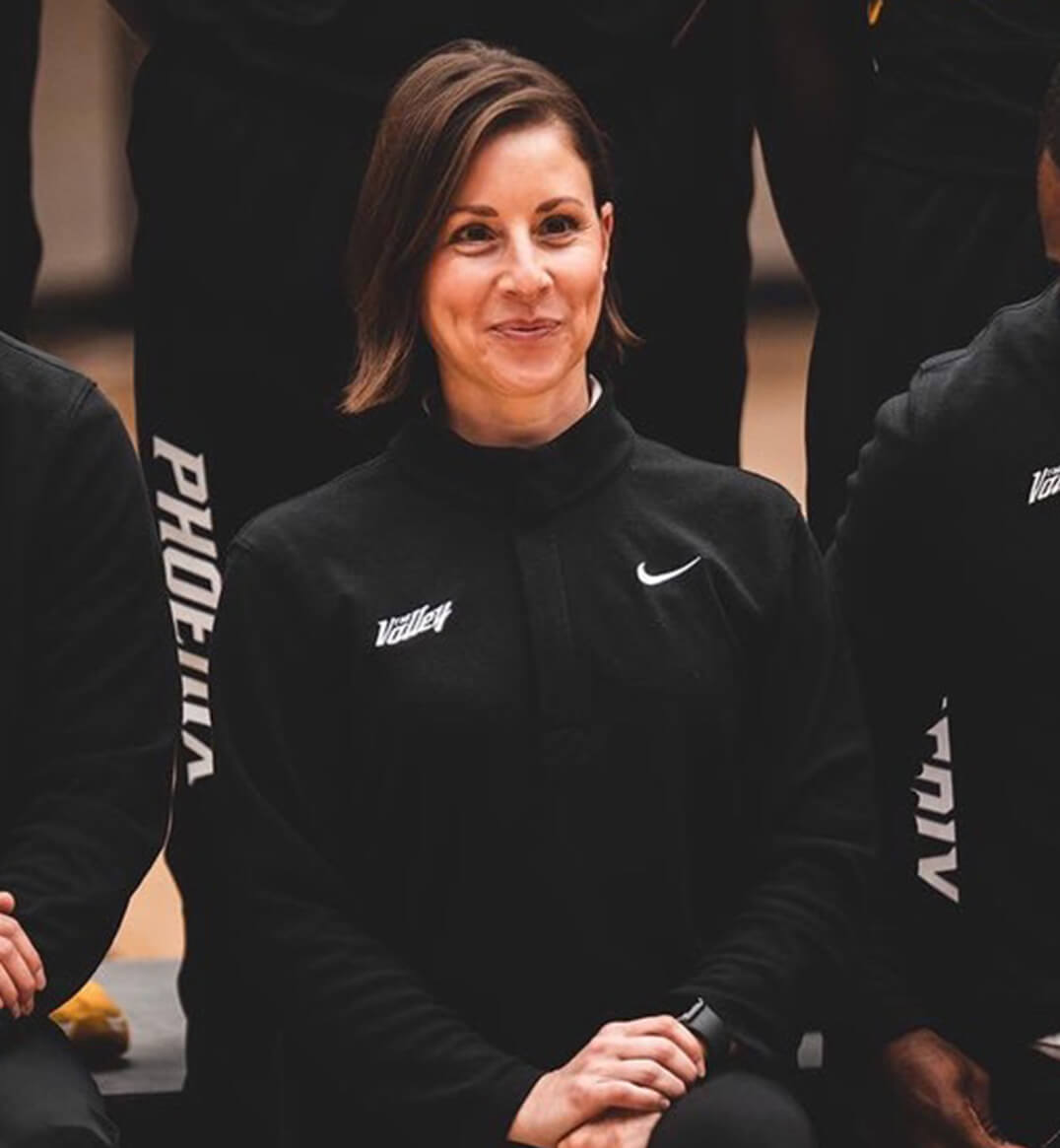 If you ask a practitioner what they believe the key to proper nutrition is, there's a good chance most will tell you something along the lines of "incorporating a well-balanced diet." If you ask Danielle LaFata what the key to success is, she'll tell you that answer is much simpler—it's patience. From the start of her career, she knew that patience would play a key role in her ability to succeed as a female practitioner finding her place within male-dominated programs. A 15-year registered dietitian and board-certified specialist in sports dietetics, LaFata has worked across five different sports and six different teams, all at the professional (and championship-winning) level. Needless to say, it's the type of track record that would rival even the most elite practitioners—male or female.
When asked to recall what qualities have helped drive her impressive career, LaFata explained that patience is necessary well outside of just the big moments, it's the day-to-day routines that require an ongoing need to be flexible. "You just have to be able to go with the flow and be okay with that because things do change and there is going to be a lot that's out of your control. And I think as registered dietitians, we tend to be very, that type-A personality, and we need everything again to fit in that nice little box. And when you're in sports, you can't do that." Although unavoidable uncertainties may be part of the job, they haven't seemed to slow her down.
With experience working with Army Rangers, Navy Seals, and other elite athletes, Danielle has continued to leave her mark by helping the world's most physically elite individuals reach their full potential. Recognizing the significance that the passing of Title IX has had not only on her career, but on the sports and health performance industry as a whole, LaFata stated "There have been some years of stagnation, but we do see a lot more women in sports; from coaches to athletic trainers and dietitians, even in my field in the last 15 years. When I first started, I don't even think there was a full-time dietitian on any of the pro sports teams." With decades still ahead of her, we hope that Danielle continues to set high bars and great examples for the future of her industry.
Meg Stone |
M.A., RSCC*E
Coach and Director of the Center of Excellence for Sport Science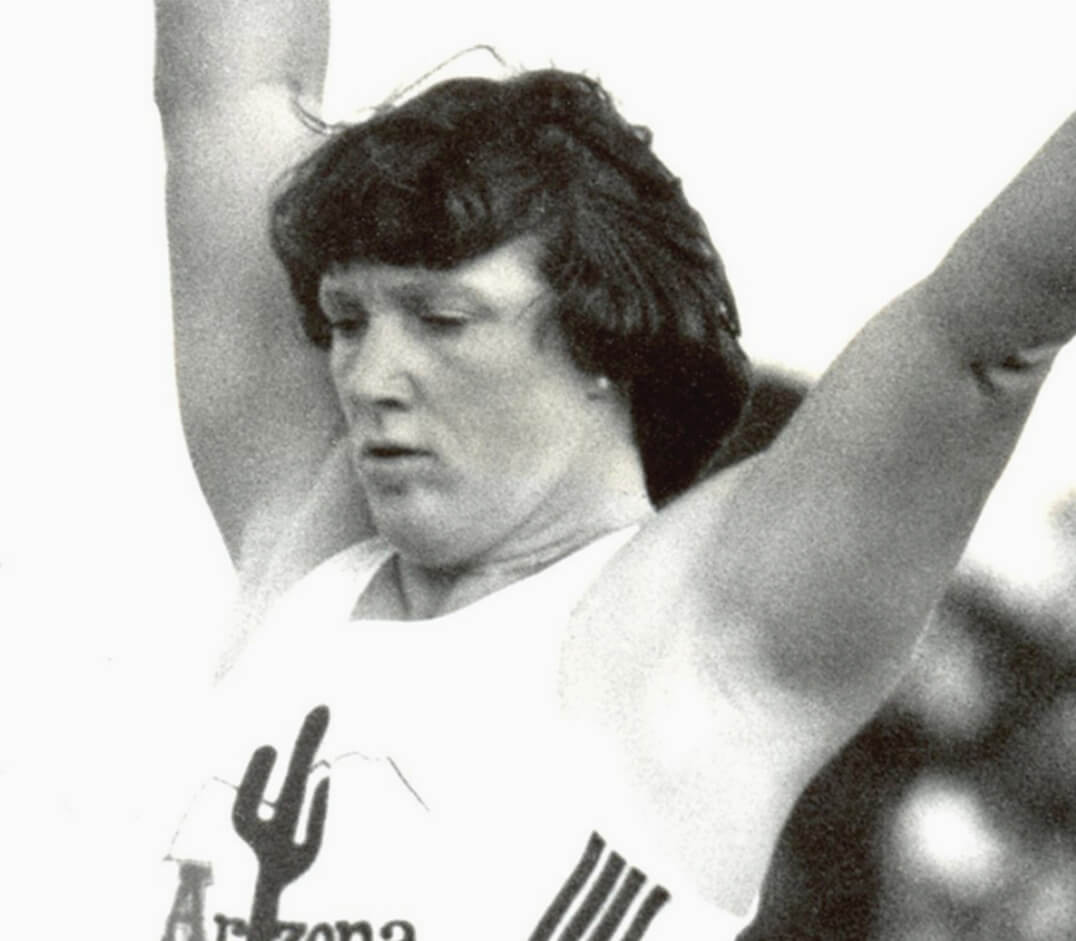 For most, being a seven-time collegiate champion and the first-ever female strength and conditioning coach at a premier university would be a resume to last a lifetime. For coach Meg Stone, it was just the beginning. Over the course of nearly four decades, Stone has solidified herself as one of the most prominent members of the strength and conditioning field—regardless of gender. Meg Stone has built an entire career on firsts. Before taking on her current role at East Tennessee State University, Stone held strength training positions at multiple universities here in the US, as well as becoming the first woman to serve as national track and field coach for Britain.
With her days now spent helping mold the future of the industry—including young female SCCs who are blazing their own path in the wake of Title IX—Coach Stone emphasized that she wants to use her experience to help propel women forward in sports. "I hope there's somebody, some female, that does come along that can do my job and take it to another level. When you are involved with strength and conditioning, or whichever area of sports science as a female, you will get an opportunity someplace. It may not be what you want, but grab it with both hands and make it yours. Don't be scared to take a chance or to get in there. Take advantage of an opportunity. I did that as a young strength coach. I was in the right place at the right time and grabbed it with both hands. It may not be what you want initially. It may not be the salary, the part of the country, etc., but take the opportunity."
When asked what advice she would have for those female practitioners starting out in their careers, Stone spoke to the importance of female practitioners not only knowing their subject matter to grow in the career, but knowing their worth as well. "Don't sell yourself short the second time. Know your worth. If you work hard and you do the job well, and it's recognized you're doing the job well, sell yourself for what you are worth the second time. Because women are notoriously poor at negotiating. You've got to negotiate a decent salary the second time that you go around. So that's the kind of advice that I would give a strength and conditioning female coming in, in this environment."
Jessica Cohen |
PT, DPT, SCS, MAT, ATC, CSCS
Head Athletic Trainer/Physical Therapist, Portland Trail Blazers
Few things provide practitioners with a better understanding of what their athletes go through like taking a walk in their shoes. Luckily, for the athletes that have had the opportunity to work with Head Athletic Trainer Jessica Cohen, she's done exactly that. A former collegiate swimmer at Vanderbilt, Cohen recalls spending a good deal of time inside the athletic training room where she'd speak to her history of shoulder troubles, when the head football athletic trainer asked "Do you want to stay this fall and be an AT student with us for Football?" During that season, Cohen was introduced to an entirely new way to make her impact on the sporting world.
The bridge from athlete to practitioner is one of the more common avenues for entering the industry, but Jessica knew that there was an even greater meaning behind getting a chance to work with Vanderbilt football. The opportunity to join a Division I football program as a female practitioner wasn't lost on her. When asked to take a collective look at the impact of Title IX as it pertains to her career and the careers of other women, Cohen had this to say: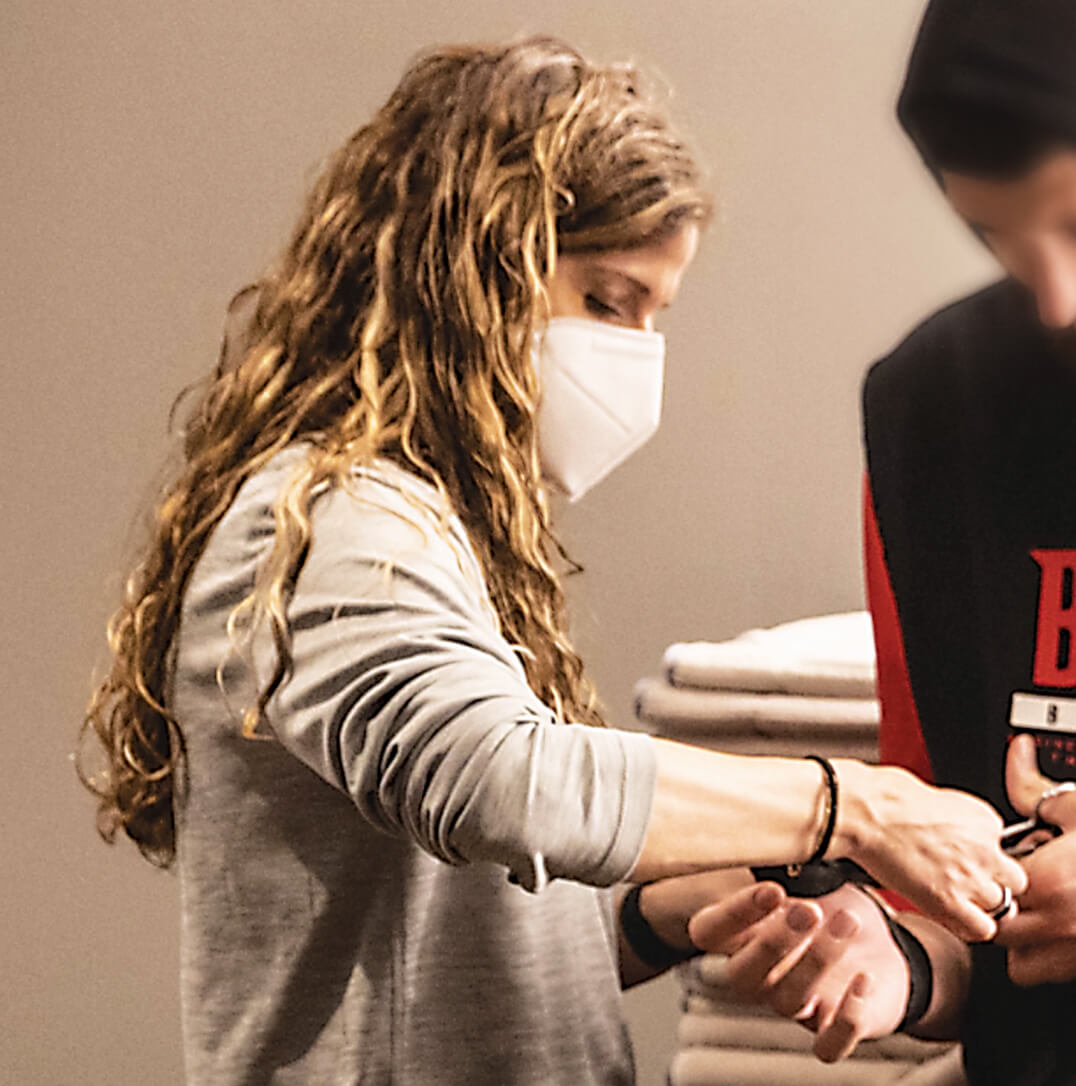 "I think if you look back over the last 50 years, we're kind of living in a time of the growth of visibility of women's athletics. And it's great to see. But I think that we have a long way to go. And so, as the WNBA, and women's professional soccer, and women's Olympic sports continue to become more popular, I think that people will recognize—whether they're fans, whether they're parents, whether they're athletes—the value that women's sports provides. And it's half of a world of skill that people aren't always tapping into or don't have access to, because it's not visible. So I think improving on visibility in women's athletics is still something that I'm very passionate about."
While attending the University of Arkansas for her masters in athletic training, Cohen landed a role with the women's basketball team in her first year. Quick to thrive in this new chapter, she learned early on that the opportunities she'd had as a student athlete would help her grow as a professional. When asked to choose one habit that helped her along her path, it was an understanding of practitioner-to-athlete communication that shone through, sharing that "there are a lot of super talented athletic trainers. A lot of very smart physical therapists. But really, the separation comes in your ability to have those interpersonal skills with how you communicate, whether it's the athlete, the coaches, a general manager, a family member of an athlete, and your ability to kind of stay one step ahead of what everyone needs."
Corliss Fingers |
SCCC, MSCC
Director of Strength and Conditioning, Bethune-Cookman University
It's often said that good things will come to those who wait. Corliss Fingers, on the other hand, prefers to reach out, grab opportunities and make them her very own. As the second female Master Strength coach in the history of the industry, first black female Master Strength coach, and first black female director of a Division I football program, Coach Fingers doesn't just welcome opportunities to blaze a trail—she thrives in them. However, Coach Fingers will be the first to tell you that great opportunities don't make you immune from great challenges. Being the first can often mean being the only.
When asked about what impact it has had on her career, she notes that it hasn't been easy, admitting "It carries a lot of weight. I'm not going to be blowing the whistle forever. I'm going to hand it down to someone else. I want to leave the profession better than I found it. I want to leave it more inclusive than I found it. I want it to be okay to have more women in Division I football as a director. As a head strength coach for Division I football—and when you see a certain name, it's not raising eyebrows." Like most female SCCs in the otherwise male-dominated field, Coach Fingers' path to achievement wasn't without its pain points. When reaching out to programs regarding her availability as a Master Strength Coach, Fingers recalls answering a callback:
"Hi—can I speak with Corliss Fingers?"
"This is she."
"…But you're a female."
"Last time I checked, yeah."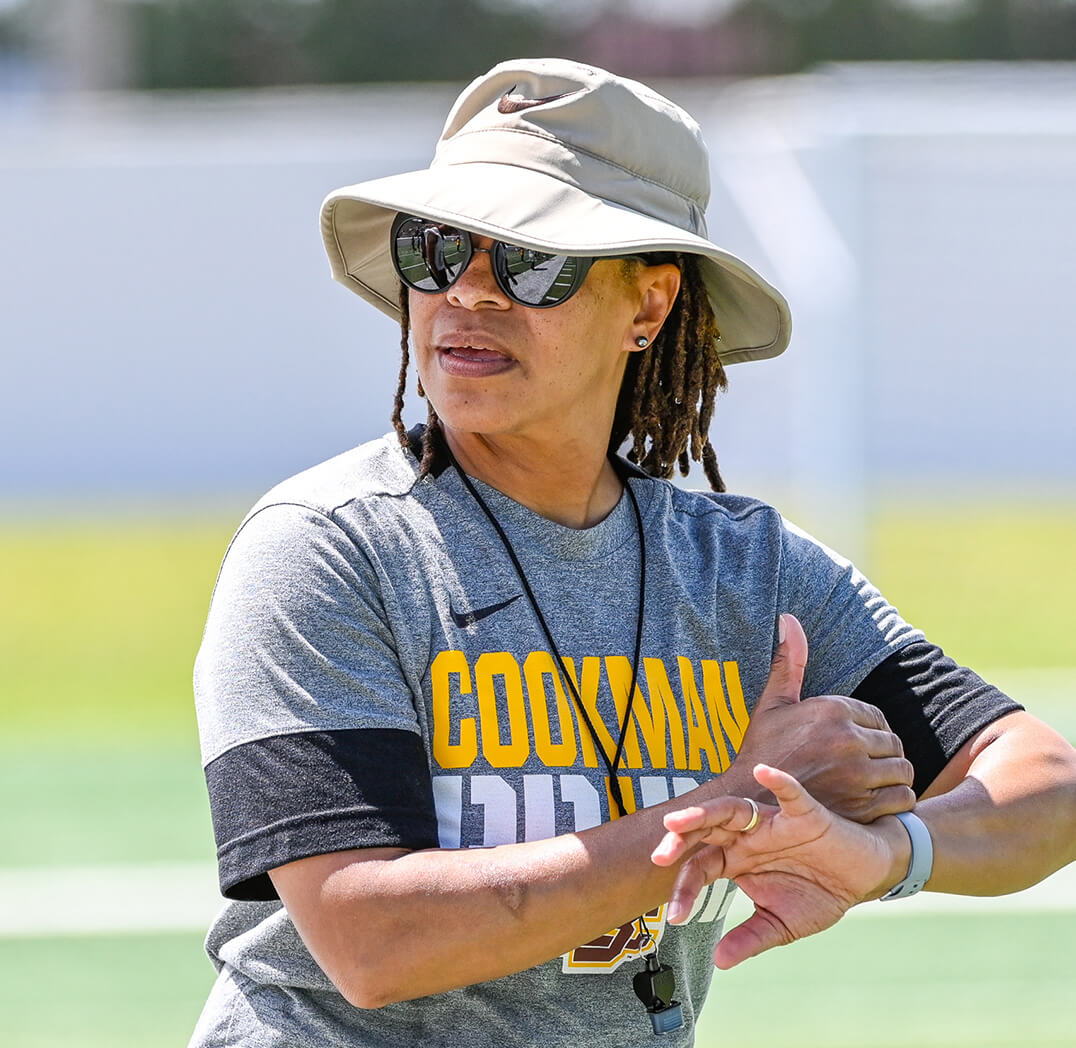 These moments never discouraged Fingers, rather, they served as a source of intense motivation. When speaking with her, you quickly realize that she was never short on motivation to begin with, so it's no surprise that Coach Fingers has risen to be one of the most widely recognized and respected strength coaches in the nation. But she knows that a path like hers, especially for black women within the sports health and performance industry, is far from the norm—an issue that she called out when looking ahead to what she hopes the future of Title IX can look like. "Because of the fact my name is Corliss, they may not know. But I want the Beckys, the Susans, the Pamelas—I want their resumes to land on a head football coach's desk, or an AD's desk, and it's for a head strength coach for football, and they can be like, 'Okay, let's take a look at this resume and see,' not, 'Did Pamela really apply for this job? Did Tanisha?' Not only female names, but black female names. 'Did she really apply for this head job?' Yes, she did, and if she had the balls to apply for it, then she's damn good enough to apply for it, so give her a fair shot."
Leaders like Coach Fingers haven't just shattered barriers and paved new paths for the future of females in sports—they've shown practitioners of all genders and races that creating diverse relationships within their industry can help get the best out of yourself and those around you. When speaking to the topic of mentorship, Fingers notes that "You've got to have those relationships early. I don't claim to know everything there is to know, but I know how to ask. I am not afraid to ask questions. I'm not afraid to ask for help. I'm that annoying person like, 'Explain it to me. Show me how to do it. One more time.' Build relationships. I have my own, what I call, board of directors. Those are the people that make me better. Those are the ones that I claim are smarter than I am, and who I go to for advice."
Shaakira Hassell |
MS, MEd, CSCS, ACSM -EPC, USAW-1
CSCS Strength and Conditioning Coach
For 50 years, the passing of Title IX has shown us that female and underrepresented practitioners don't just belong in the sporting world, they help drive it forward. Building something from the ground up, especially a strength and conditioning program, is a dauntingly difficult task—and it's one around which Shaakira Hassell built an entire career. "Everywhere I've been I've succeeded at making that happen, starting from grad school all the way up to heading my own football program with the United States Coast Guard Academy."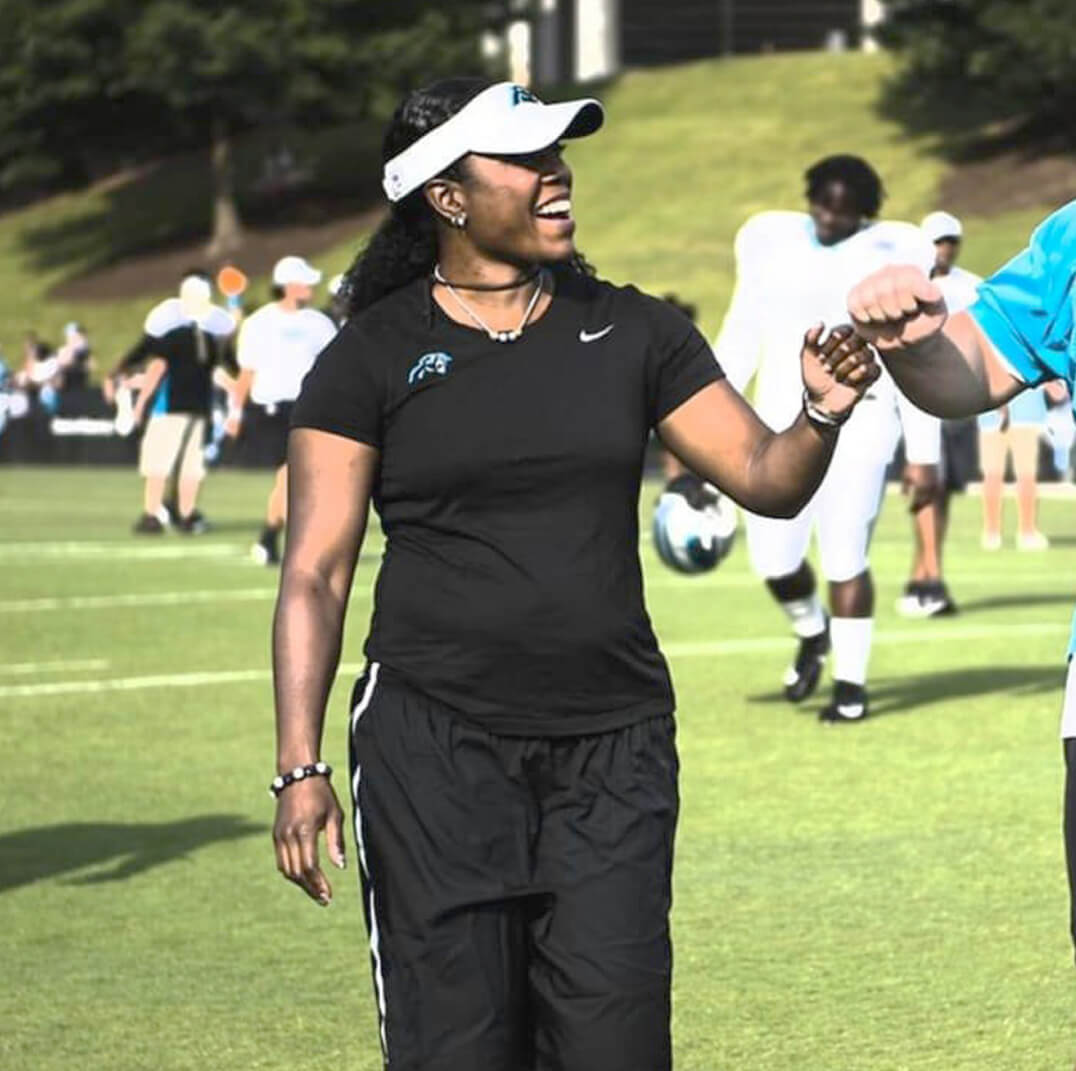 The dynamic of a female SCC working with male athletes can come with a bit of a balancing act. Coach Hassell embraces the challenge with open arms, sharing that she's typically unlike any coach they've ever had. "Of course, I'm a woman, and there can be like a motherly, auntie, sister-type relationship that builds, which is a nurturing type of relationship. They feed off that, and it goes hand-in-hand with knowing that I care for them—not just in the weight room, but in life, in academia, in their belief system, and in their spirit. I touch on all bases when I'm with my athletes, just to let them know that it's a holistic approach that I'm taking to working with them."
With a resume that includes working with the NFL, every level of collegiate athletics, and even military special forces, Hassell is no stranger to making an impact among athletes and colleagues who look nothing like her. Hassell noted, "I've been places where I was the only female amongst my white male counterparts, and I had to fight to get on in football. I had to do a lot of fighting throughout my career to just prove myself as a bonafide official strength and conditioning coach that knew what strength and conditioning was all about and knew my stuff, and had a substantial amount of experience leading and developing and coaching athletes regardless of sex."
But if you really want to unearth what makes a driving force like Coach Hassell tick, more than any personal accomplishments, qualifications, or accolades, just ask what got her into the business in the first place. "I want to see all of my athletes go far and beyond what can be imagined in their sport career. I wanted to be the one that was there for them pre-injury, during their injury, and post injury, and with them to prevent injuries. That takes all of a person to want to be that dedicated to their athletes, to make sure that their well-being, their health, and their mental state and spiritual state is all in line with both of our goals, which are to help them succeed and go as far as they possibly can in their career. When I break my huddles down in the weight room, or on the field, we say, 'go far,' because I want them to remember why we're doing it. It's to help them to go far beyond what can be imagined, and far beyond what they currently see."
Lindsay Baker |
PhD FACSM
Director, Gatorade Sports Science Institute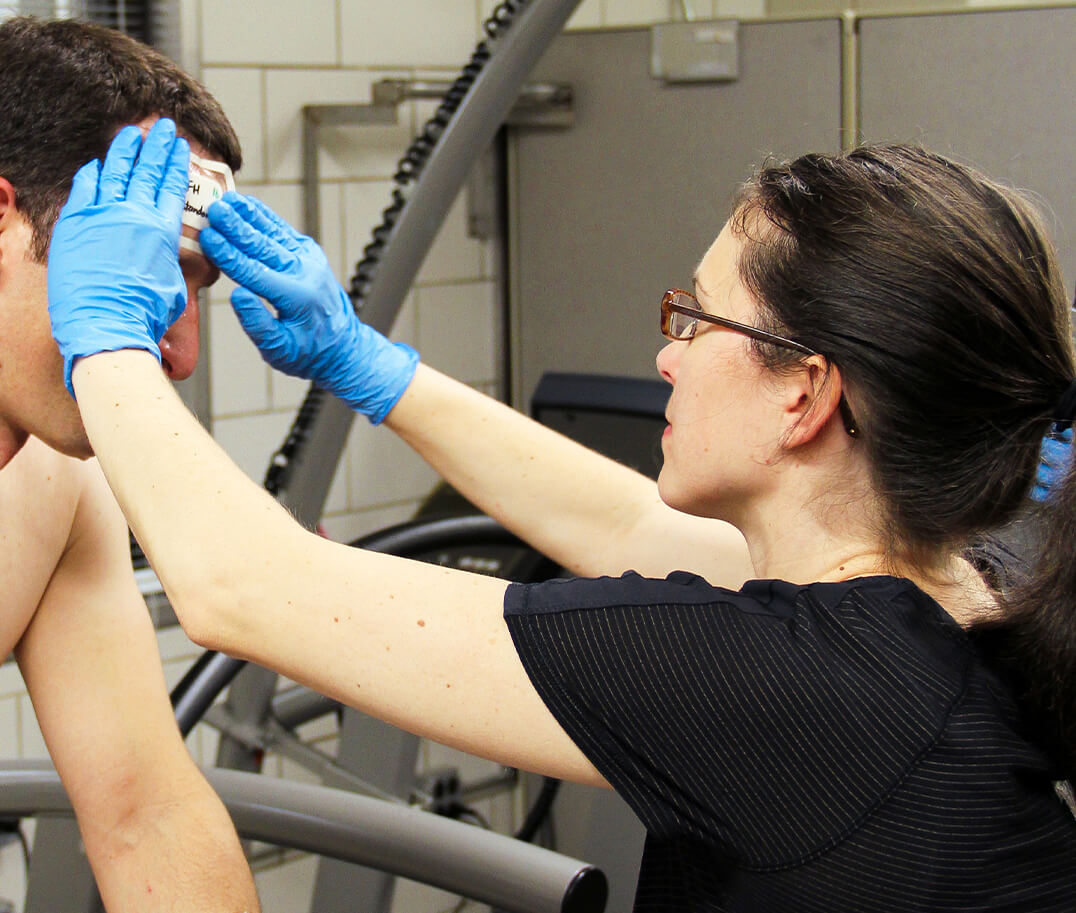 With both fields being largely dominated by men, it's always been an uphill battle for women to gain the consideration they deserve within the science and sports industries—so Dr. Lindsay Baker decided to make her mark right at the intersection of both. Currently a Director at the renowned Gatorade Sports Science Institute, Dr. Baker has spent nearly 15 years leading internal research programs for hydration testing, sweat testing, exercise physiology testing, and more. Her team heads the work that's done to validate new technologies, bringing an entirely new realm of capabilities to how athletes are able to test, train, perform, and recover.
When we asked for insight as to how she was able to make her own way as a female in a male-dominated field, Dr. Baker spoke to the delicate balance between confidence and doubt, sharing that "I've always been my own harshest critic, and I probably spent too much time and energy—especially when I was younger and new in the field—worrying about trying to live up to expectations or comparing myself to others. And honestly, in a male-dominated field, I was worried about what other people thought. 'Am I doing enough? Am I good enough? Smart enough?' So I guess one thing I would tell my younger self is to be a little less critical of myself, trust myself more, be more confident in my abilities."
It wasn't surprising to hear that pursuing a career in sports science was born from a love of playing sports herself. With many female colleagues at GSSI having similar stories to her own, Dr. Baker shared how she feels Title IX's passing has helped usher in a new wave of sports scientists. "Just having the opportunity as a female to be able to have as much access to sports participation as men, is that first step to realizing how much you love sports. And then, if you also have an interest in science, then eventually the two marry, and a career is born. That's what I think of in terms of the connection between Title IX. It's kind of indirect, but eventually, if more women are playing sports, then maybe they can eventually realize, 'Well, as much as I love sports, I may not be good enough to be a pro athlete, but I can still have a career that's centered around my love for sports and exercise."
Ashley Labrador |
ATC, LAT
Athletic Trainer, Brien McMahon High School
Ashley Labrador, a first generation Filipino-American, grew up in a household that encouraged the typical medical paths of doctors and nurses. As someone who grew up competing in just about every sport there is, she just couldn't see herself spending her days within the confines of a hospital. But, as fate would have it, a basketball injury landed Labrador on the training table of her high school athletic trainer, where the crossroads of health and sports left a profound impact on her. "Being an athlete myself and growing up as an active individual, I knew I wanted to be in that realm. I found that Athletic Training was an opportunity to provide care, still stay in the healthcare field, but not necessarily be in a hospital setting. Athletic Training allows me to enjoy sports, remain around sports, and make a difference in that regard."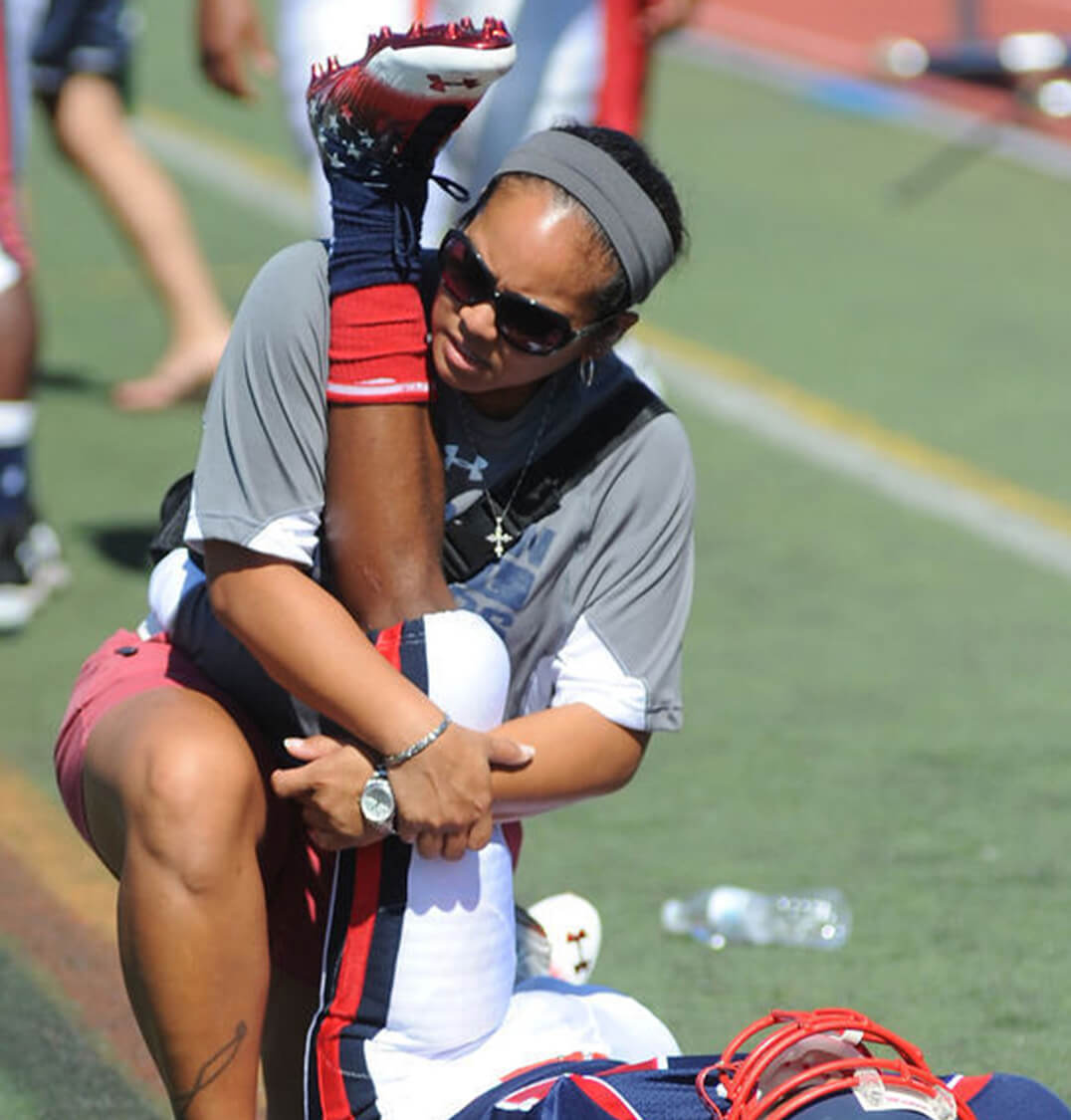 At the high school level, competitive sports serve a far greater purpose than just wins and losses. The opportunity to help shape the athletes and professionals of tomorrow is both a rewarding path and a tremendous responsibility. Part of helping her athletes excel both on and off the field requires the ability to help instill positive habits they can apply to their performance in competition, as well their lives as a whole. When speaking to those habits, Labrador shared, "It's a matter of trying to pay attention to the little things and seeing how it helps the bigger picture. I encourage the idea that preparation is important. Every job is more than what the job description says. I model this by showing the athletes through my daily routine. Whether it's preparing water jugs or medical kits for the teams, making sure that they [the athletes] are doing their rehab, or just reaching out and communicating with them about an injury, practice, or even how their day is going; what you put into it, is what you get out of it."
As a minority herself, Labrador understands that the impact of Title IX doesn't live and die with her generation. As a female practitioner within a field made up of mostly men, she takes pride in doing her part to leave a mark on the sporting world, so the next wave of first-generation Filipino-American women can continue to share the opportunities that she has. "I try not to forget about where I came from and what sacrifices were made by my family to allow for greater opportunities; not just as a first-generation female Filipino-American, but as an individual. I feel like we tend to forget that we are all humans who are trying to do their part in making a difference for future generations and society as a whole. I, at times, find myself feeling as though I'm not necessarily making a huge impact, but I do believe that we all have a purpose and a sense of responsibility to do what we can for a better outcome and brighter future. Being a part of this campaign is an honor and has given me the opportunity to tell my story, and for that I am very grateful. I, for one, do not know if I necessarily deserve it, but I want to at least show others that even though you may feel like you're not doing much, it can still have a significant positive effect. The fight must go on."
Lauren Link |
MS, RD, CSSD
Director of Sports Nutrition, Purdue University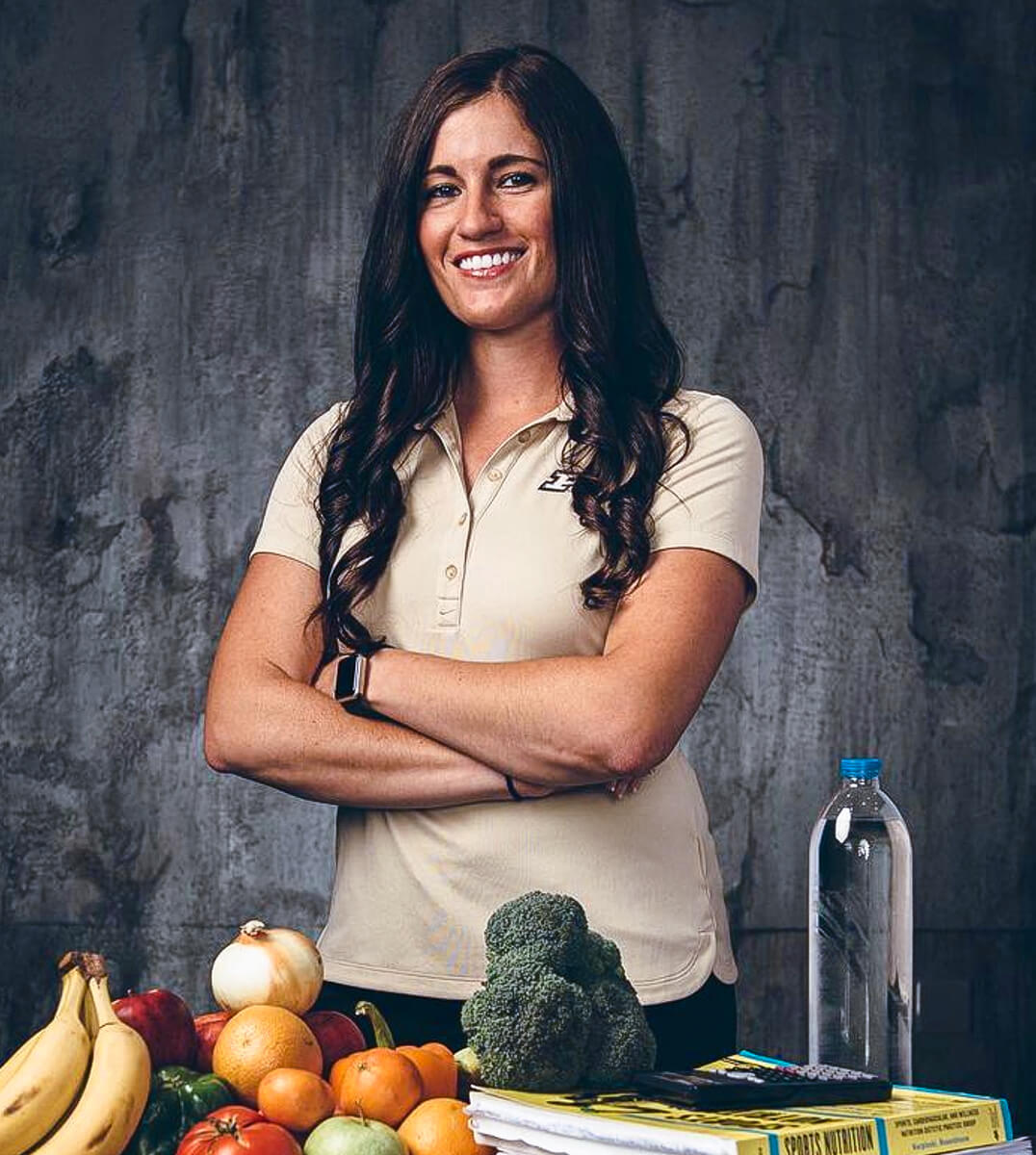 One of the main benefits of Title IX's passing, beyond the opportunities it has given female practitioners to gain entry to a male-dominated industry, is the ability it has given women to grow their professional networks. In a field as young as sports nutrition, Title IX has given professionals like Lauren Link, Director of Sports Nutrition at Purdue University, an opportunity to grow both credibility and interest for her industry.
"I think, especially in our setting, relationships are so important and rapport is so important. So whether it's with an athlete or a strength coach or the coach, I think that has been hugely impactful in terms of getting buy-in from different groups. We're still a pretty young profession respective to the entirety of athletics, so it's been very cool—in the eight years I've been at Purdue—to really see it kind of explode, going from no staff to a pretty respectable size staff, no budget to a very large budget, no facilities to lots of facilities. That has been very fulfilling to see."
For Link, a former soccer standout at Purdue in her own right, having the opportunity to work with athletes at her alma mater was a dream come true. In her role, Link is able to be highly involved with the day-to-day nutritional routines of her athletes, often at even the most micro levels. Seeing how changes that they make to their diet, or their habits, and how that can help them, plays a direct role in the athlete's success. But Link was eager to find other ways to use her position.
In her book "The Healthy Former Athlete: Nutrition and Fitness Advice for the Transition from Elite Athlete to Normal Human," Link extends her reach to help female student athletes who would be making a similar transition to the one she did. "I never necessarily thought I would write a book. But after having lived the transition of what I often call 'from athlete to normal human,' I felt just so strange in so many ways and it's something nobody ever really talked about. And so then when I got into my professional setting, I remember thinking, 'Okay, we have to do more in this way. We help them. We do all these things to help them be a really good athlete here, but we do almost nothing after. We just kind of wish them good luck on their way out the door.' So I felt very passionate that I wanted to do something around that."
Title IX has opened the doors for women and all underrepresented groups in the world of sports and beyond. Unlike other coaches and practitioners who are able to communicate through the universal language of athletics, sports dietitians are also tasked with identifying, understanding, and meeting the specific needs of their international athletes when it comes to nutrition. "I think we play a huge role in helping those athletes and it's really important for dietitians in any setting—especially ours—to understand different cultures and religions, and how that plays into the food choices that we make. Maybe it's teaching them how to cook our foods or what to look for in the grocery store. I know I've sat with athletes to go through, 'Okay, what are you used to? Let me help you figure out similar foods to what you might be looking for in your grocery store.' I think it's really important to not only educate them in a culturally appropriate way so that they understand what they're seeing in America and how to utilize those foods, but also determining what we can help provide. Because we provide a ton of food and supplements, snacks, and meals; so it's important for us to be thinking about that."
Andrea Hudy |
MBA, MA, CSCS*D, RSCC*D
Director of Sports Performance
Although the teams that Coach Andrea Hudy works with have become synonymous with winning and championships, the recognition of the roles female practitioners play in a team's season are rarely acknowledged. "Research says that women are paid 80 cents on the dollar that men are, and do I have to work 20% harder than guys that I'm competing for a job with. I might have to work probably a little bit harder—so I'll outwork anybody. You just try to get 1% better every day and grow."
For Coach Hudy, doubts and negativity from her male peers and mentors was something she'd experienced her whole life. "I played PeeWee football with my brother and my dad was the coach. And I've had comments said to me ever since I was young like, "You shouldn't be here." And I'm like, "Why not? I'm better than some of these people, why can't I be here and compete with that?"
Even well into her career, while working with men's sports, Hudy recalls hearing remarks from those who couldn't grasp a female practitioner coaching a male athlete. "I'd be on the floor and I would hear the comments like, 'Oh, you get coached by a woman? Come on!' I remember walking out on the floor in one of the Final Fours I was in, against a team I won't mention, but they had comments about me coaching men."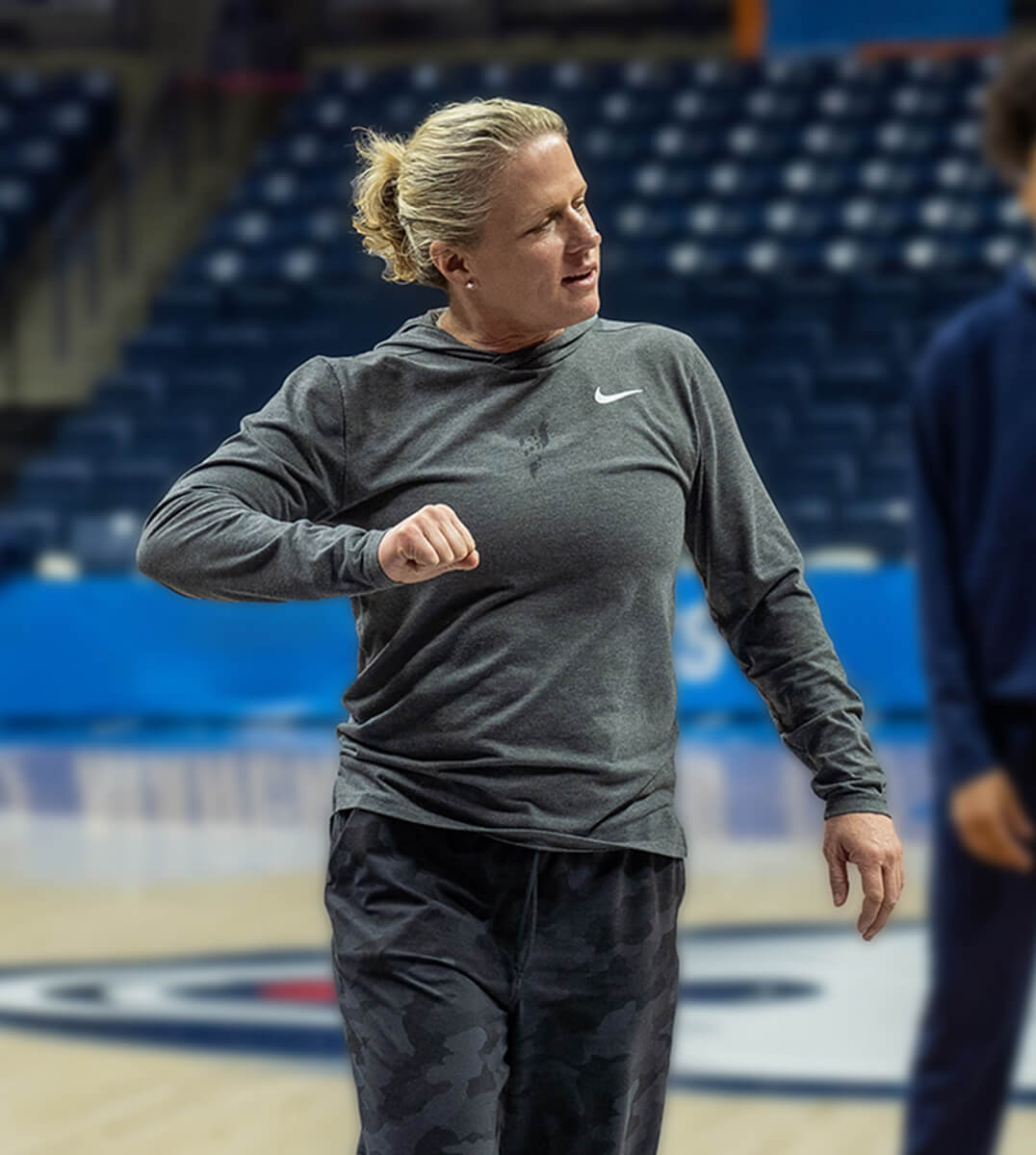 Title IX's passing has allowed hard-working women like Coach Hudy to get their shot at proving others wrong. And while speaking to what helped drive her desire to push boundaries and attack her dreams, she never had to look far. "I remember my mother sharing her experience as both a chemistry major and a math teacher in the Sixties—and there weren't very many of them. At all. So I had a great role model in her. And her being a strong woman and her defying the odds of working and being a science major in college… I mean, she's the one who taught me just to compete against anybody, it didn't matter."
Looking ahead to what the future holds for the next generation of women in sports, perhaps Coach Hudy said it best—Just take a chance on a woman and she'll prove you right.